Sweetest Day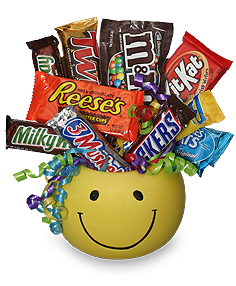 CANDY BOUQUET
Gift Basket
HOW COULD YOU GO WRONG WITH A BOUQUET OVERFLOWING WITH DELICIOUS SWEET TREATS! A great gift for any age... It can be perfectly paired with a plush stuffed animal or balloons. (Please remember that each selection is custom made and substitutions may be necessary. Your order will be produced as closely as possible to the picture.)
Shown at $45.00
CANDY BOUQUET
GIFT BASKET
Yellow Smiley Face Bowl Or Mug, &nbsp Assorted Candy Bars, &nbsp(Shown: Reeses, Snickers, Milky Way, Kitkat, Twix, Butterfinger, M &amp Ms, Three Musketeers).
HOW COULD YOU GO WRONG WITH A BOUQUET OVERFLOWING WITH DELICIOUS SWEET TREATS! A great gift for any age... It can be perfectly paired with a plush stuffed animal or balloons. (Please remember that each selection is custom made and substitutions may be necessary. Your order will be produced as closely as possible to the picture.)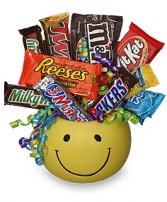 Sweetest Day gift baskets from MOHLER'S FLOWERS BY UHL in Lima are the perfect gift for this tasty holiday. Not only are they filled with your favorite sweet snacks, but they can be customized to be even more sweet for your special someone. Have a candy gift basket made for your friend who loves to snack. For chocolate lovers, you could send a candy bar gift basket or a gourmet chocolate gift basket, it just depends on your Sweetie's taste. Just give MOHLER'S FLOWERS BY UHL a call and we'll help you find the perfect treat for your Sweet.